Super Active TAWERS WG III
The robot with integrated welding power source has evolved further. High speed welding and ultra low spatter.
Super Active Wire Feed Process (S-AWP)
Super Active TAWERS utilizes a reciprocating wire feed that combines with a constantly monitored modified current waveform system to control material transfer throughout the short arc circuit transfer cycle, which drastically reduces welding spatter and material deformation to a minimum and produces a high-quality weld appearance, which works best when welding thinner materials.
This is achieved with a reduction of heat input and increased material deposition while welding the workpiece. The number of short circuits for material transfer during welding have been increased considerably, which greatly reduces both the transfer droplet size and spatter. Furthermore, the disturbances caused by post-vibrations in the weld pool are almost entirely removed. Super Active now holds a 200W wire feed motor and a direct to the wire feed rollers which increases wire feed accuracy. In addition, a forced air-cooling system built into the torch has led to the increase of the performance envelope giving a 100% duty cycle of 245A using mix gas or 310A using CO2.
Wider current range and precise wire feed
High Speed and low spatter welding increases productivity.
100% duty cycle at 310 A!
(When using 1.2mm mild steel solid wire, CO2 gas, and air-cooling unit)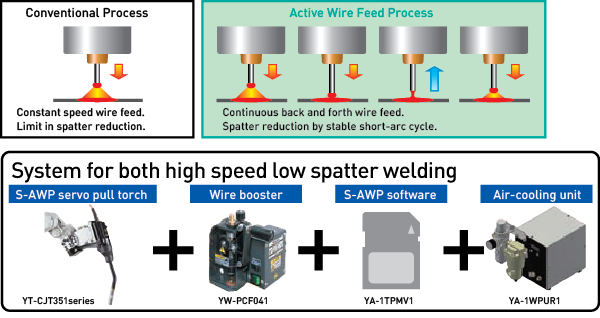 Improved productivity at 100cm/min or higher
Beautiful and wide bead
Weld Conditions:
Joint: Lap
Gas: CO2
Weld Current: 320 A
Weld Speed: 100cm/min
Plate Thickness: 3.2mm x 3.2mm
Max 99% Spatter Reduction!
Super Active Wire Feed Process (Optional: for thin plate, gap)

HBC Process (Optional) prevents burn-through in thin plate welding.
HBC (Heat Balance Control) process supports welding of high-tensil steel plates that are becoming thinner.
Low heat input control greatly increases weld speed and gap tolerance.
Capable to weld thin high-tensile steel that is prone to burn-through.
Hot Active Wire Feed Process (Hot-AWP)
Optional software for Active TAWERS (Hot Active Wire Feed Process) is included in S-AWP Standard Software (YA-1TPMV1).
Super Active TAWERS Demo Video
Zinc-Coated Steel Welding Solution Using Solid Wire! Reduce Spatter and Blowholes with TAWERS Zi-Tech.
TAWERS Zi-Tech enables low-spatter welding of zinc coated work pieces. In comparison to conventional CO2 welding, it is possible to achieve spatter reduction up to 60%. Furthermore, if you are using the Super Active TAWERS with Zi-Tech it allows a further spatter reduction up to 90%. Overall, the main objective of the TAWERS Zi-Tech is to drastically reduce spatter and blowhole formation in the welding process. There are two variants of Zi-Tech available: TAWERS Zi-Pulse and Super Zi-Active.
Uses standard welding wire. (1.2mm solid wire)
Supports MAG welding in addition to CO2 welding.
Effective on a wide range of coating weight.

100% CO2: 45 to 190 g/m2
80% argon and 20% CO2: 45 to 60g/m2
90% argon and 10% CO2: 45 to 60g/m2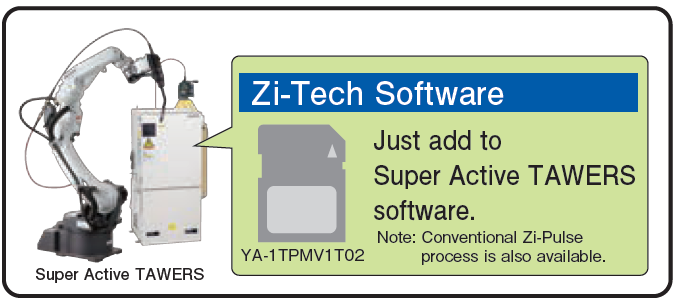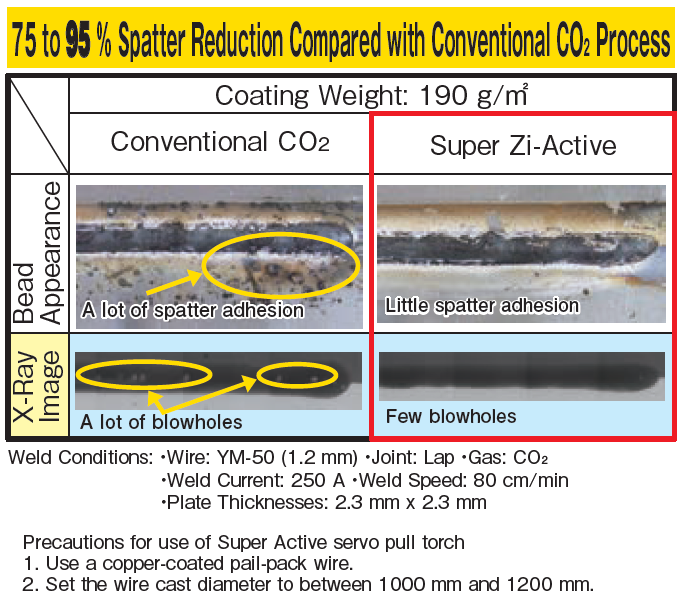 Uses standard welding wire. (1.2mm solid wire)
Uses mixed gas of 90% Argon and 10% CO2 (HD-Pulse Weld Process)
Effective on a wide range of coating weight from 45 to 60 g/m2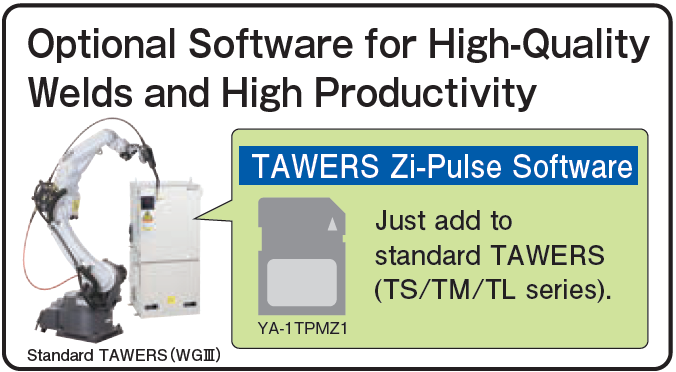 TAWERS Super Zi-Active Demo Video
Panasonic researchers found that conventional TIG welding often faces difficulties in maintaining a consistent weld due to the noise created by the high frequency voltage required to start the arc. "Touch Start" on TAWERS-TIG eliminates noise and allows for maintaining appropriate heat input at all times regardless of any slight changes in the base metal.
Conventional TIG welding also has a limited window of wire speed feed capability. TAWERS-TIG's "Filler-Torch" lessens the distance between the wire and the electrode, letting the arc pre-heat the wire – allowing for faster wire-melting speed and an overall larger process window for wire feed speed changing.
Wire feeding speed can be adjusted continuously from 0.5-2 m/min with the Teach Pendant. Wire feeding can be adjusted synchronously to the arc pulse. Because the filler feeding unit can be rotated with a robot axis it is possible to automate the welding of very difficult work pieces. Compared with a fixed (not rotating) filler feeding unit, the working range of the robot dramatically increase High flexibility and easy access to difficult work pieces.
An excellent arc start
Allows to improve welding quality and reduce cycle time.
Closer electrode-to-filler distance improves pre-heating of the filler.
Curved neck filler conduit!
Super Active TAWERS Aluminium
Super Active TAWERS's very low-spatter performance is applied to aluminum MIG.
The use of aluminum material in manufacturing purposes is expanding, with the main purpose of using aluminum in industries is because of its light weight properties. Thus, we cannot ignore the importance of aluminum materials in this new industrial age. However, there are some drawbacks when it comes to aluminum welding such as, aluminum has a much faster thermal conductivity compared to mild steel which makes heat input control extremely difficult.
Panasonic has developed a solution with the Super Active TAWERS Aluminum, equipped with the new Super Active Wire Feed Process designed for Aluminum welding (SAWP-Aluminum). This technology continuously feeds and retracts the welding wire stabilizing he short-arc cycle which results in stable arc and spatter reduction. This technology allows the capability to weld thin aluminum material compared to conventional MIG welding.
Super Active Wire Feed Process for Aluminium MIG ! Less spatter and smut !
S-AWP's low spatter performance proven in mild steel is applied to aluminum.
Wider current range (40 to 180A) allows higher welding speed and welding of thinner and thicker plates.

Additional Functions - Spiral Weaving
When welding aluminum, it is normal to weld from thin to thick aluminum material, and to balance the heat input for this type of joints is extremely difficult because it is easy to burn through the thin material and at the same time it is very difficult to gain enough penetration on the thicker side. Super Active TAWERS Aluminum has a solution for this problem which is called Spiral Weaving Synchronized Low Pulse. 
Spiral Weaving is a type of welding process which the robot welds in spiral weaving motion as it moves forward. This weaving will result in a bead appearance as good as TIG welding achievable with much higher speeds. Furthermore, synchronized low pulse will enable changing the welding output synchronized with weaving action. Low amperage is utilized when the torch is welding on the thinner material and it switches to a higher amperage when the torch is on the thicker material. This unique feature allows for controlling the material hear input separately when welding between thick and thin material. 
Super-Active TAWERS Aluminum Demo Video