A variety of features specialized for arc welding
The new TM G3 series robot features various critical improvements over the previous TA series robots such as an improved working range along with a more well-arranged and efficient cable management and also significant innovations in wire-feeding technology that either goes through a hollow robotic arm (through-arm type) or using a hybrid solution (separate type). The performance of the latest TM G3 series allows you to impact important factors of your product quality, precision, flexibility and cycle time.
The G3 controller is equipped with the most modern 64-bit processor, which allows for multi-tasking while running production that provides you the advantage of increasing factory productivity. Compared to its predecessor, with the new "Weld Navigation" function, it enables quick and simple teaching to the robot's program while providing you with a range of options to suit your welding parameters.
Enhanced Basic Performance
Increased Motion Speed
TM-1400: Speed of main 3 axes increased by 22 % on average.
(approx. 42 °/s more than TA type)
Extended Reach
TM-1400: 1 437 mm
(63 mm more than TA type)
Arm Specialized for Welding
Cantilever Structure
Makes arm compact and improves accessibility to workpieces.
Structure Specialized for Welding
Clean Cable Management!
Internal Flexible Conduit (Optional)
Manipulator-Controller Cable (Control)
Manipulator-Controller Cable (Motor Power)
Welding Power Cable
Internal Flexible Conduit (For wire feed)
Gas Hose (with valve)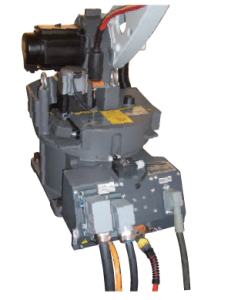 Separate Type (TM-Series)
High Wire Feedability & Less Cable Interference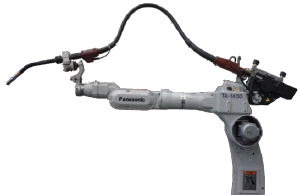 Conventional torch cables will cause some difficulties in wire feeding in certain positions due to their rigid material.
Power cable interference can occur depending on the welding position.
External Flexible Conduit
Even with a massive curve of the flexible conduit between the wire feeder and torch, stable wire feeding can be achieved.
Through-arm power cable reduces cable interference.
GIII Controller with High Performance
Faster CPU reduces start-up time to about 30 seconds. (50% reduction from previous model)
Optional memory allows storing 800,000 teaching points in addition to the standard 40,000 points.
Teach pendant with enhanced operability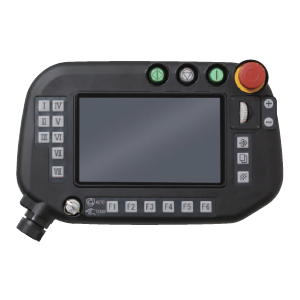 Light weight design under 1KG (0.99kg) giving you less stress during teaching.
Liquid crystal LED back light improves visibility.
USB and SD memory interface realizing great expandability.
Increased number of function keys (four to eight), enabling same action with less key strokes during teaching
Swivel rack in the case makes maintenance easy and saves space.
Cables with connectors on both ends reduce cable exchange time.
Compatible Welding Power Source